5 Outdated SEO Practices That Can Hurt Your Site Ranking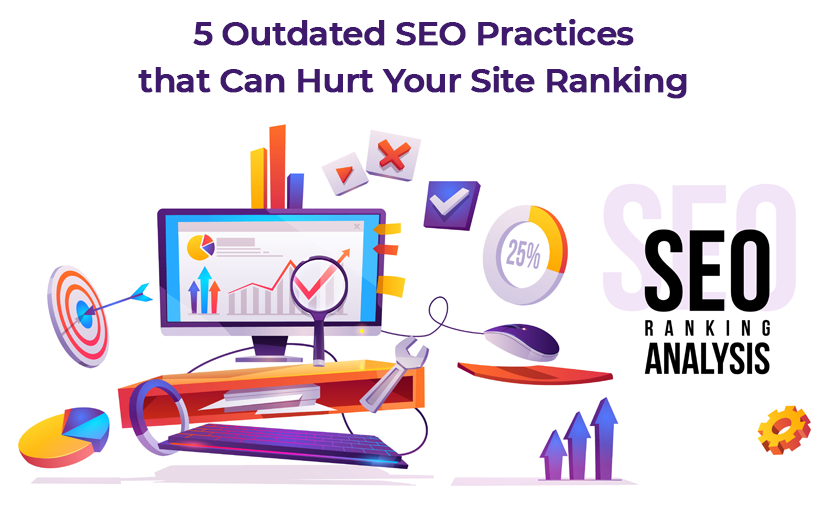 Added on
October 26, 2020
by
We all know that SEO Practices is a vital component for getting found in search and for driving traffic to web pages. However, the old SEO practices from years past that were effective then are not effective now, and may even hurt your website ranking position. Things like keyword stuffing and thin content can turn off visitors and get your site banned by Google. In an age where technology and the Internet make it possible to run a business completely online, it makes good financial sense to find out what works and what doesn't to get and keep potential customers coming to your website.
The Importance of the User Experience
One of the most important factors for consideration these days is user experience. What is the user experience? It is the experience the visitor has while browsing your website. You may not have considered this factor when it comes to your website, but you will agree that when you visit a site that is well-organized, user-friendly, and offers helpful navigation tips it makes your browsing experience much more enjoyable.
Comparing a Good User Experience to a Bad One
Now, with that in mind, consider the last time you clicked a link and visited a site with very little useful content, pages that contained poor grammar, every other word was a keyword, and the whole site just screamed: "buy, buy, buy." That is a turn-off, even if you intended to make a purchase at some point. Whether you run a review website, e-commerce store, or drive traffic to affiliate sites, your focus should be on what best serves the people you are trying to market to. You can do this by putting yourself in the shoes of your customer and looking at things the way they do.
Nobody likes a hard sell. As consumers ourselves, we like to see our options, compare prices, and learn about the benefits of a particular product or service before buying. We want information and proof of results before pulling out the credit card and making a purchase. When it comes to SEO, outdated practices like the ones listed below do not support the user experience and can repel customers instead of attracting them. Here are a few outdated SEO practices and why you should avoid them in 2020.
5 Outdated SEO practices to Stop Using in 2020
1. Creating Content Solely for Search Engines
In the old days, people were being told that keyword density had to be high to rank well in search engines. So content was written to maximize certain keywords in an article and often read poorly because it was not written for human readers. It offered no valuable information, didn't leave the reader wanting to know more, and was often misspelled and created just for the sake of having content. An article under 500 words is considered thin content and doesn't offer much value. The most important factor for content is that it informs and entertains the reader, possibly urging them to click a link to find out more. An article should be long enough to explain a topic, or offers solutions to a problem to be useful.
2. Keyword Repetition
 At one time, keyword density was very important, or so we thought. All those Internet gurus were telling us to repeat keywords as often as possible so that the search engines knew what the content was about. The problem was that it made the content awkward and hard to read. Keyword density is not that important these days with content written more for human beings. As long as your text includes words related to your main topic and some additional words to support your main idea, the search engine spiders can figure out what your content is about and rank it accordingly.
There is no basis for the belief that repeating your keywords 3 – 10 times will rank your content any higher than its natural placement. Your ranking will naturally improve over time depending on how many views the content gets, especially if it is being shared on social media. The ideal format to follow is (1.) main keyword, (2.) secondary keyword, and (3.) related keywords sprinkled naturally and logically throughout the content.
3. Targeting Too Many Keywords
Ideally, keywords should be what the user would type into the search bar to find your content. With the advancements of technology, we have access to many good keyword tools to help us find keywords that get searched often. However, you should stick to a maximum of 3 – 5 keywords to avoid stuffing too many into your content making it hard to read. The keywords should be relevant to your main idea and support your content. Trying to target multiple keywords or using several keyphrases containing the same words is very frustrating and does not yield good results.
Instead, try using an SEO plugin like Yoast that can help you analyze the keyword density and suggest related keywords to help focus your content. Focus more on the quality of your content, using good writing and a call to action to get the reader to take the next step. If you provide good content you won't get penalized and you'll get more visitors.
4. Spammy Links
Another factor in search engine placement is how many other sites are linking to yours. Links are important but more important than the number of links you have, is the quality of those links. Link spam is when you get links from many sources just to have links. These often come from practices such as guest blogging on unknown or unrelated sites and submitting articles to article directories. These two things on their own are not necessarily bad, but if the content is solely focused on your targeted keywords they will not be good links.
Guest Blogging Done Right
The best way to get links to your site is to get links from authoritative sites related to your site's topic. These are not always the easiest to get but they carry the most weight with search engines. Reach out to authority sites in your niche and ask about guest blogging opportunities. Network with others to provide informative, relevant content that offers value. Authoritative sites are those with .org or .net endings like www.akc.org (American Kennel Club) for dog training or blogs written by authorities in their field (experts) like Neil Patel. Links from authority sites lend credibility to newer sites with informative content.
5. Article Spinning
This SEO practice was quite popular a few years ago and some people still use it today. If you're not familiar with the term, article spinning is using one article to create multiple versions and posting them on article directory sites across the web. How this is accomplished is the sentences are rearranged and restructured to pass the Google plagiarism checks for duplicate content. The result is often pages that read poorly and sentences that don't make any sense. These articles are all over the web and contribute to Internet "garbage." The better way of course is to write quality content and submit to popular sites and blogs in your niche linking back to pages on your website that are related and helpful.
These SEO practices are old, outdated, and just plain don't work in today's world. So what should you be doing instead to place well and ensure that your content gets read?
Write Quality Content
The biggest factor in SEO is your quality of content. Write for people first and search engines last. Write high-quality content making sure to include keywords as part of the main topic where they naturally occur. Create content to share an idea, solve a problem, or tell a story and it will naturally rank well. Also, be sure to include optimized images, infographics, or charts to explain your talking points in a captivating way. Your content should answer all the questions that your visitor may be asking when they landed on your site. Remember, the user experience is very important so make sure your site is easy to navigate and include contact information. Here are a few suggestions from SEMrush for improving the user experience.
Create a Social Media Presence
Share your posts on social media and invite readers to comment or ask a question. Engagement is a powerful motivator and writing informative content is one way to get lots of shares and more exposure. Join groups in your niche and contribute thoughtful posts or comments. Do not try to sell here. Your intent should be to build a brand based on the quality of your posts. If you set yourself up as an expert in your niche and post content on subjects readers are interested in you'll have more success than a dozen spammy posts.
Update Your Old Content For Freshness
Updating your old content tells Google that you have something new on your site which gives it a small SEO boost. Add some new content to an old post with the date you updated it. Google likes updated content and will respond by giving you more traffic. This article by Neil Patel outlines the benefits of updating old content for SEO value.
Stay On Top of Your Data
Analyze your data to see where you need to improve. Software tools can help you keep track of many aspects of your business and show you how you're doing. You can automate some of the processes so you can see everything all in one place making it easier to manage.
Whether you make posts to your blog or social media sites, do it regularly. Schedule your content and contribute posts to all of your sites at least once or twice per week. Being active on social media and building a following will get you more visitors and sales when your followers are ready to buy. People are more likely to buy from someone they feel a connection to or have a relationship with.
Follow good SEO practices to bring more visitors to your website and optimize your site for the best user experience to turn visitors into buyers. Don't forget to optimize your site for mobile browsers as well. More people shop using their smartphones and tablets so this is equally important.
---